From fires and natural disasters, to workplace violence or the unexpected death of a key staffer, crises can strike businesses at any time. A disruption in services, communications and workflow can have an immediate impact on costs and operations and a lasting impact on the ability to retain members, sponsors and other key partners.
That's why having a strong business continuity plan is critical. Nonprofit finance professionals play a key role in building that plan and making sure it's ready to "go live" at the very first sign of trouble.
The newest workshop in TRENDS' Nonprofit Finance Series shows you how.
Register now for TRENDS Nonprofit Finance Workshop: Creating and Utilizing Emergency Preparedness Plans: An Interactive, Mock Disaster Training by Business Continuity Expert Bob Mellinger
In this half-day training, you'll learn how to build a strong business continuity plan and put it into action. Your guide is Bob Mellinger, an expert on business continuity, emergency preparedness and crisis management. During this highly interactive workshop, he helps you master every facet of your role, from recognizing potential threats, to developing your plan and using it to help your organization recover quickly from anything from power outages, fire, storms and floods, to crises that threaten the safety of your people, property and information.
A mock-disaster exercise lets you test what you've learned. You'll participate in a tabletop training exercise that simulates the challenges your organization could face when trouble strikes. This is your chance to apply your new business continuity planning expertise—and hone your communications and decision-making skills—before you face a real-life crisis.
This TRENDS Finance training event also includes breakfast and networking time with other nonprofit finance professionals.
Reserve your space now for the know-how to protect your nonprofit with an effective business continuity management program, including:
10 key steps for building an effective business continuity plan
Emergency response procedures for today's major threats and hazards
How to determine the impact a disruption could have on your organization
How to identify your organization's critical infrastructure and key business functions (Actual Recovery Times vs. Recovery Time Objectives)
How to plan for prompt resumption of business
How the principles of emergency management apply to business continuity planning
Practical ways to improve your crisis communication and decision-making skills
Lessons learned from disasters that have affected nonprofits in the past
Remember, this training focuses specifically on business continuity planning for nonprofits to help you get out in front of potential disasters. Don't miss this opportunity to build a program that helps protect against the lasting impact crises can have on everything from membership numbers to corporate sponsorships.
Register now for TRENDS Nonprofit Finance Workshop: Creating and Utilizing Emergency Preparedness Plans: An Interactive, Mock Disaster Training by Business Continuity Expert Bob Mellinger

Meet your Speaker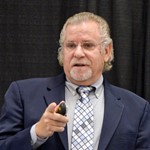 Bob Mellinger, CBCV, is the founder and president of Attainium Corp, which he launched to deliver business continuity, emergency preparedness and crisis management services. For over 30 years, Bob has provided business solutions and strategic guidance to associations and commercial enterprises. Bob is a frequent speaker on the topics of business continuity, contingency planning, emergency preparedness and crisis management, delivering sessions ranging from The Basics of Continuity Planning to the Impact of Today's Threats and Hazards, as well as interactive mock-disaster tabletop exercises known as the Disaster Experience. He has been a guest lecturer at the graduate level on business continuity and emergency preparedness, has delivered many sessions at major industry conferences, and has spoken for numerous associations including Building Owners and Managers Association, Credit Union National Association, Independent Community Bankers of America, Association for Continuity Professionals, Meeting Professionals International and American Society of Association Executives. Bob is a graduate of the University of Dayton, has a graduate certificate from George Washington University's Institute for Crisis, Disaster, and Risk Management, and achieved a Certified Business Continuity Vendor (CBCV) designation from DRI International.
Who Should Attend
This TRENDS training event is of immediate value to trade associations, professional societies, charities and other types of tax-exempt organizations. Attendees who will benefit most include:
CEOs and Executive Directors
CFOs
Vice Presidents, Finance
Directors, Finance and Operations
Directors, HR
Event Agenda:
| | |
| --- | --- |
| 8:15-9:00 | Registration and Breakfast |
| 9:00-10:30 | Presentation |
| 10:30-11:00 | Break with the sponsors |
| 11:00-12:30 | Disaster Exercise |
| 12:30-1:00 | Networking |
Event Details
Event Details
When: Friday June 16th, 8:15-12:30
Where: 1727 I St NW, Washington, DC 20006
What's included: Networking, breakfast, expert speakers, and peer panel discussion.

CAE Credits: Association TRENDS is a CAE Approved Provider. This program meets the requirements for fulfilling the professional development requirements to earn or maintain the Certified Association Executive credential. We will maintain records of your participation in accord with CAE policies. For more information about the CAE credential or Approved Provider program, please visit www.whatiscae.org


In accordance with the standards of the National Registry of CPE Sponsors, CPE credits have been granted upon a 50-minute hour. National Registry of CPE Sponsors ID Number: 109435
Delivery Method: Group-Live
Field of Study: Specialized Knowledge & Applications
Prerequisites: None
Level: Update